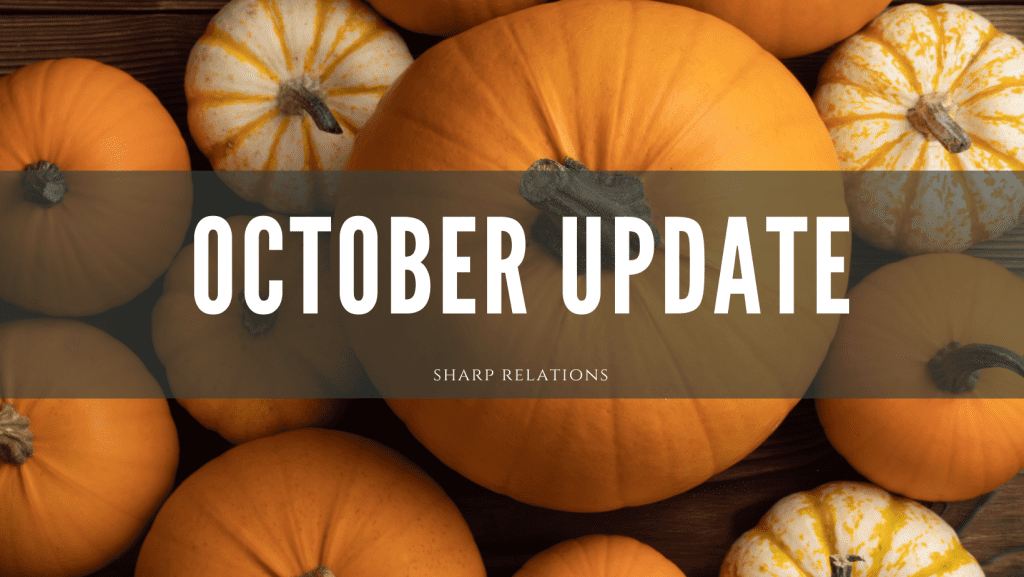 Hello,
As the nights draw in and the autumn colours begin to brandish their hues, we have been enjoying foodie delights such as a glass (or two) of Forager Hedgerow Cider from Kentish Pip and some delicious hot puddings from OGGS®.

You might be surprised to hear that this month we have also turned to 'rapping'! But more on that later.

Now's the time to get 2022 Marketing and Communications plan written. 
2022 planning
Now is the time to get your 2022 Marketing and Communications plan written for next year. If you haven't done yours yet, please book your no-obligation call here: https://calendly.com/sharprelations/discovery-call Our workflow for January and February is already starting to fill up fast.
Get Creative!
Here in the Sharp Relations team, we love any opportunity to get creative and Halloween is another great occasion to indulge in some creative content and tasty treats. It's not too late to join the spooky celebrations, so get creative and share on your socials.
Sharpen Your Brand
Our sister branding agency, Sharpen Your Brand, just seems to keep growing! These guys are offering more and more great products. If you want to rebrand or a tidy up for 2022, then pop an email over to hello@sharpenyourbrand.co.uk who can take you through the process.
New Client Alert!
Our Kitchen
This month we have also been sharing our time and PR contacts to help support a community food club in Thanet. Our Kitchen is so much more than a food bank; it's a food club for the local community which provides friendship, emotional support, nutritional advice, and educational resources. Like food banks up and down the country this essential point of contact for families is now more important than ever to the local community.
And that's a RAP! Wait, what?
I don't work with Sharp Relations yet. What could I be doing this month?
Get posting to social media! Halloween and Bonfire night content, Remembrance Day coming up, Autumn warmers, half term ideas. It's also World Vegan month.
I do my own PR: Then, it's time to be approaching Newspapers and websites with your products for the Christmas Gift Guides.
If you're very organised! Then, share your Veganuary, Dry January stories with Weekly magazines and supplements
If you're extremely organised: Then it's time to approach glossy magazines with Valentine's Day and Mother's Day stories.
If you'd like to learn more about how PR can help you grow your business, come and talk to us! (link: https://calendly.com/sharprelations/discovery-call )  
We love sharing our experience and expertise with businesses looking for help with PR and brand-building, and we'd be delighted to have a coffee and discuss all the way we can help you to reach your goals.
All the best,
Claire x