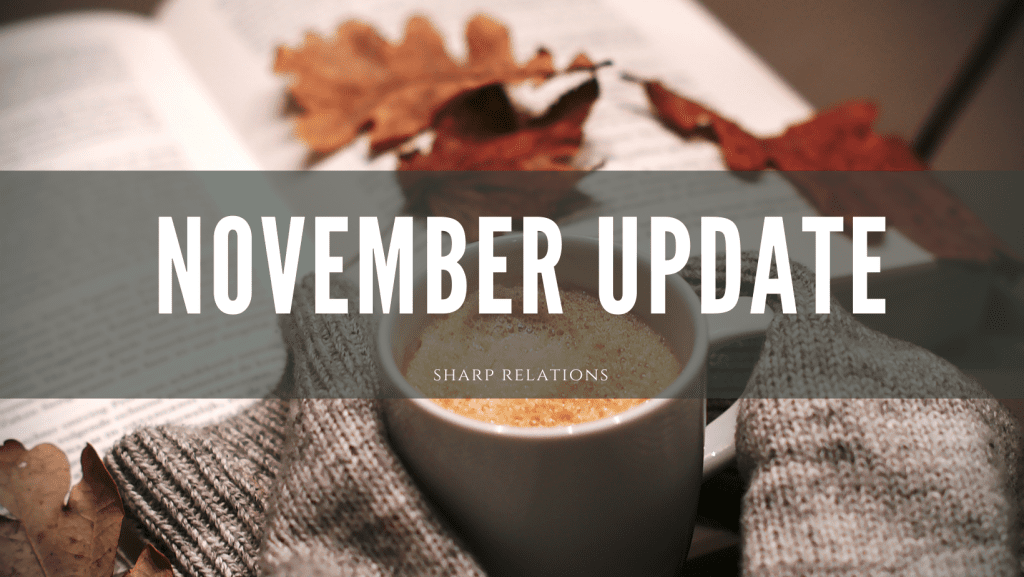 Goodbye November, Hello Silly Season, my Old Friend!
Hello!
It is Sharp Relations' birthday this month, the agency is 11! We rolled our celebrations together with a teambuilding day followed by our Christmas Party!

We've had a lot of fun working with our clients and launching food and drinks products over the past few years! But this has been a month of new beginnings, future planning, consulting insights, trend-checking and looking forwards into 2022 to see what the year ahead is likely to bring for us and our clients….and there's a lot of optimism. Plus, four exciting new clients to tell you about, some award nominations, our new social media services, top tips for DIY PR and news about our Christmas Food Bank collection.
New Clients!
We are really excited to be working with some lovely new clients….
Bold, unapologetic and all about taste, free from snacking brand Crave, is on a mission to create awesome free from and vegan food and has appointed Sharp Relations to launch something really new and exciting. The new products will be slightly different from their award-winning decadent Kitchen Sink and Rocky Road chocolate snack bars.
Big Drop was launched in 2016 as the world's first brewer dedicated to alcohol-free beer by City lawyer, Rob Fink and long-time friend James Kindred. Both had recently become fathers and were looking to cut back on the booze but could not find any decent alternatives to their favourite craft beers.
Lilk was founded by siblings Elisa and Bastien Eymery who began blending milk alternatives during lockdown in their East London home. Both enthusiastic plant milk drinkers, one through necessity due to lactose intolerance and the other a milk lover looking for a compromise-free alternative. Together they created dairy-free magic by picking the best grains and seeds and blending them with taste in mind.
Kingcott Dairy in Kent is home to award-winning dairy farming family and cheese makers the Reynolds Family, who have been nurturing and milking a dairy herd for over 30 years. Now next generation cheesemaker, 25-year-old Frank Reynolds, is making a name for himself with the farm's newest cheese Kingcott Blue.
Award Nominations!
We're chuffed as anything to be nominated for the Kent Business Awards in Ashford across THREE categories:
🌈 Creative and Digital Award!
🌟✨🧨 Innovation Award!
🚀 Small Business of the Year Award!
We will find out who wins at the Awards Dinner on the 8th of December, wish us luck!
Can we help with your 2022 Planning?
Now is the time to get your brand's 2022 plan ready. We can help if you want some support and guidance in a couple of ways….
·         PR Services – If you're thinking about using PR to support your business growth, we might be able to help you. Retainers start from £2,100 per month. Book a call to discuss your goals https://calendly.com/sharprelations/discovery-call
·         Marketing Motivator – the perfect produce for businesses that know they need to do something new but aren't quite sure where to focus their time and budget. Costs just £799, always very popular in December – March:   Marketing Motivator – Sharpen Your Brand
PR Tips – I don't work with Sharp Relations yet. What should I be doing this month?
Get posting to social media! Well, everything in December is going to be about Christmas, from gift ideas to serving suggestions, to ways to get organised this winter season. Don't forget to share the human things too, office parties, charity outreach and posts about your people.
I do my own PR: Then, it's time to be approaching Newspapers and websites with your products for January, or Veganuary (the month when lots of people try giving up animal products), or Re-Genuary (the month of choosing sustainable food), or Dry January (giving up booze) or simply, skipping into the new year with new goals and a healthy eating and wellness plan.
If you're very organised! Then, share your Valentine's Day and Mother's Day stories with Weekly magazines and supplements
If you're extremely organised: Then it's time to approach glossy magazines with Easter and early Spring stories.
Social Media Services
From January 2022, we will be offering a premium story-led, organic Social Media Management service to our clients. In addition to our new social media manager, we have a team made up of some of the best copy writers and picture editors in the county, so we know we can offer a really high-quality service. We know how powerful social media is for discovering new products and services Instagram reported 81% of users are discovering new brands and services on the platform.  We want to see our clients really excel in this space and get the most out of what social media can offer to a business, when it is done right. If you want to know more, please register your interest by emailing social@sharprelations.com, thank you.
Christmas food bank drive
This Christmas, Sharp Relations is collecting food and drink items for donation to the Family Food Bank in Ashford.  Please join us in bringing a little hope and joy to families in need this Christmas by donating what you can.
We're based at Unit 14, Burnt House Farm Business Park, and have a black box outside our office which can be used to store your food or drink donation if we're not in. Whatever you can donate will be much appreciated. While festive food will be well received, please also consider donating simple, inexpensive products which are always in short supply, such as: cereal, tinned meat or fish, long life milk, tinned potatoes, dried rice/pasta, tea/coffee, biscuits, pasta sauces, hygiene & baby products.
The final date for donating (at least via us) is Friday 10th December. This is so we can pass it on to the foodbank who will distribute it to local families in time for Christmas.
Sharpen Your Brand
Our sister branding agency, Sharpen Your Brand, just seems to keep growing! These guys are offering more and more great products. If you want to rebrand or a tidy up for 2022, then pop an email over to hello@sharpenyourbrand.co.uk who can take you through the process.
If you'd like to learn more about how PR can help you grow your business, come and talk to us! (link: https://calendly.com/sharprelations/discovery-call )
We love sharing our experience and expertise with businesses looking for help with PR and brand-building, and we'd be delighted to have a coffee and discuss all the way we can help you to reach your goals.
All the best,
AJ x